TWOHANDS Gel Highlighter, 8 Color,20239
Product Detail
Customer Reviews
Style: Gel Highlighter
Brand: TWOHANDS
Ink Color: Red, pink, orange, yellow, green, blue, purple, brown
Point Type: Chisel
Number of Pieces: 8
Item Weight: 3.84 ounces
Product Dimensions: 5.5 x 4.5 x 0.67 inches
Package Includes: red, pink, orange, yellow, green, blue, purple, brown. The fashionable colors will give your work a subtle but stylish look.
Gel highlighter prevents smears and smudges, won't dry out if left uncapped.
Won't bleed through any paper including glossy and thin papers, magazines and bibles.
Perfect for color coding, journaling, memorizing your bibleor other books.
Twist-up design reduces breakage of gel inside and remains clean under the protection of plastic shell and also facilitates use.
They're safe to use for any student, office worker and just about anyone (kids, adults etc.)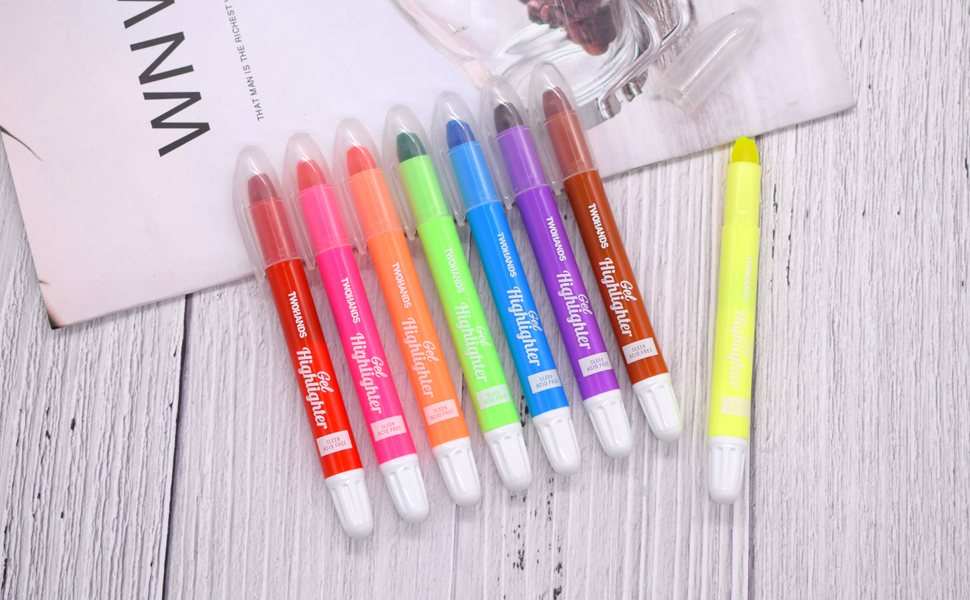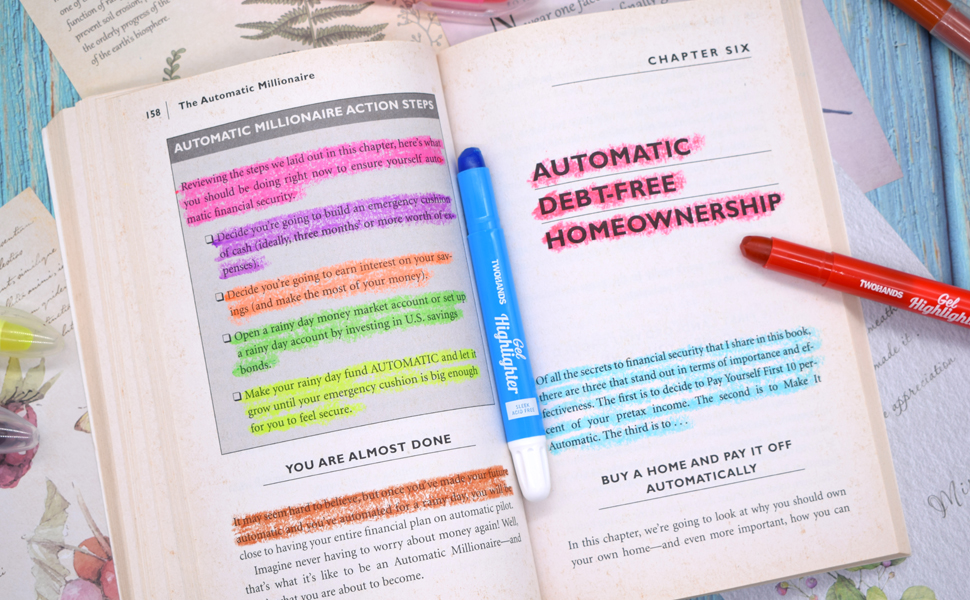 ---
Customer Reviews
Gel to Color Match
★★★★★ Reviewed in the United States on April 11, 2022
After buying a 16 count variety pack of gel highlighter, I had to purchase these because it had two color I needed that are not in most packs, "red and brown".
Most gels are true to its color match except purple, red, and blue. The purple; it gives off a pink-ish color. I wish the red was alittle more redder, and the blue is wayyyyy to light.
However, the gels doesn't over shadow your text, the sheerness is perfect. They are able to give a thick or thin highlight, and an overlay in unnecessary.
As yall can see I use these for my planners and for the cost, money well spent.
No bleeding through pages
★★★★★ Reviewed in the United States on May 24, 2021
These are perfect to be used in bible. Similar to a very soft, smooth, waxy crayon. Does not bleed through. Perfect number to not micro-dissect your bible. Some crumbling.
Also good for toddlers to color with as they do not need to apply too much pressure.
Write your message here and send it to us