TWOHANDS Highlighter, 8 Pastel Colors,20208
Product Detail
Customer Reviews
Style: Highlighter,Chisel Tip
Brand: TWOHANDS
Ink Color: Pink, orange, yellow, green, blue, purple, grass green, gray
Point Type: Chisel
Number of Pieces: 8
Item Weight: 5.6 ounces
Product Dimensions: ‎8.46 x 4.53 x 0.67 inches
The soft, fashionable colors will give your work a subtle but stylish look, including Pink, orange, yellow, green, blue, purple, grass green, gray.
Quick-drying ink prevents smears and smudges.
The two-line widths, 1mm + 5mm - ideal for highlighting texts of various sizes as well as for drawing lines of different thicknesses.
They're safe to use for any student, office worker and just about anyone (kids, adults etc.)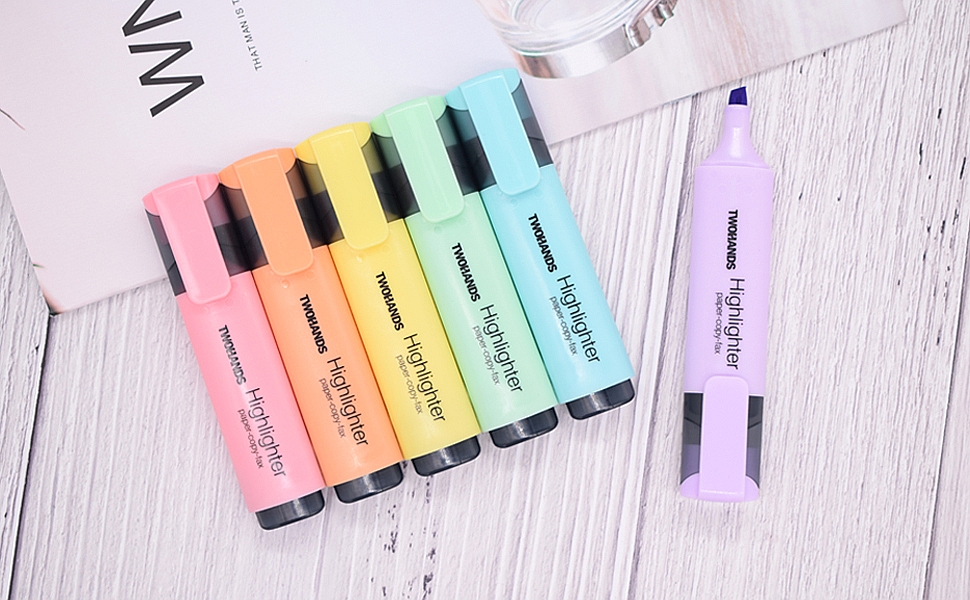 Multi-Purpose Chisel Tip Highlighters, Great For Highlighting, Underlining Or Writing Notes.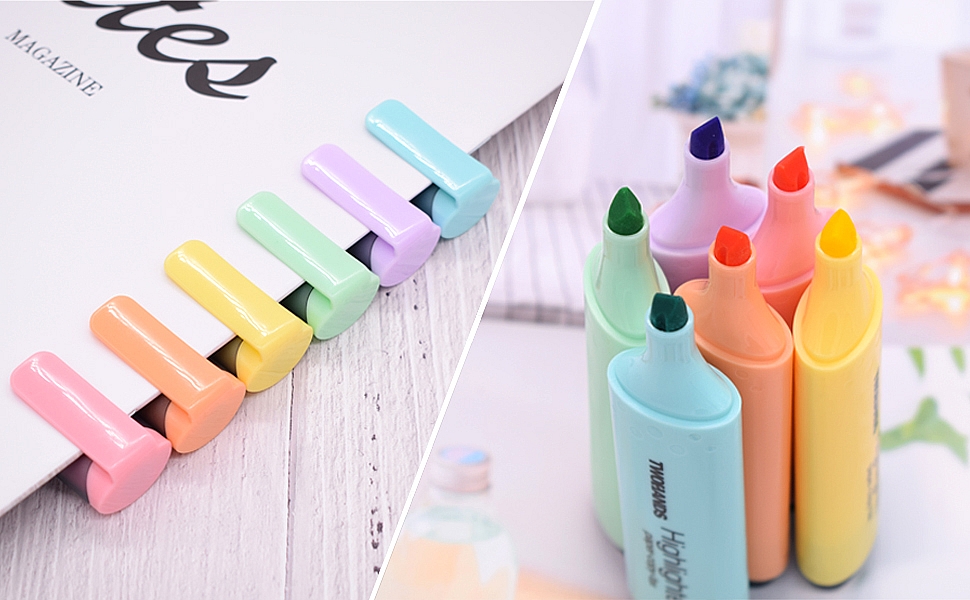 Premium Highlighters Great For Highlighting And Emphasizing Words And Sentences At School, Home, Or Office.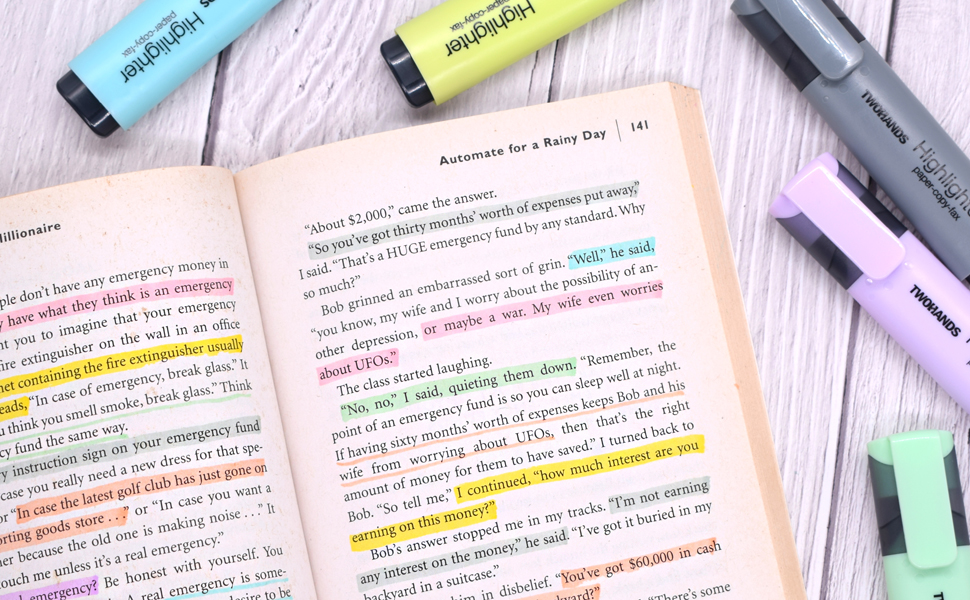 ---
Customer Reviews
Workhorse highlighters. Perfect dupe for Stabilo Boss
★★★★★ Reviewed in the United States on March 12, 2021
These are fantastic! I'm in seminary and highlighting a LOT of textbooks these days and these highlighters are here for me. They don't bleed on any book paper that I have used them in. The pastel colors are sheer, but noticeable. And the size and shape feels perfect in your hand. Because they are flat and oval, they don't roll away when you lied them down, either, which is a HUGE pet peeve of mine on other highlighters. They don't dry out after hours-long sessions leaving them uncapped while I read and mark.
They do smear printed paper, so I use gel highlighters on that sort of paper. I had one nib that was slightly crooked out of the package, but I just twisted it back into place and it was fine. These are a perfect dupe for Stabilo Boss highlighters at 2/3 the price. AND they have a clip on them, which is a handy way to keep track of your highlighter.
After a year of HEAVY use, several of them are still going strong. The colors I used most often have died along the way, but I treat these things terribly, leaving them uncapped for hours and using one color through a whole textbook (I don't color-code, I just switch to new colors when I get tired of one). I will be purchasing the 8-color set next because it has grey and lime.
My favorite highlighters!
★★★★★ Reviewed in the United States on October 14, 2019
I love the colors. They're arent extremely bright and the ink doesnt bleed through my paper(as long as you dont use the cheap stuff lol). The tip is strong and wide.
*IF* you are using pencils, these highlighters will be "stained" by the graphite. I usually use a pen so its not an issue for me. There is no smearing or staining when used on ink.
Write your message here and send it to us