TWOHANDS ultra fine dry erase marker,The Best Dry Erase Markers for the Studio, Classroom and Office.
Say goodbye to the days of dusty chalkboards and hello to the glories of dry erase. Dry erase boards have become a staple in homes, schools, and offices, making dependable dry erase markers must-haves.The markers offer a sustainable alternative to paper as well as convenience.
To meet the needs of more people, we released this ultra fine dry erase marker,They come in vibrant, bold colors that show up well on white dry erase boards and are made for repeated use on them. Use them at home, school, or in your office or studio for lists, diagrams, notes, drawings, presentations, and more.
The ultra fine tips in this 12-pack are great for writing and for drawing(10 colors + 2 black); adults and children equally enjoy their satisfying coverage.TWOHANDS also makes markers with fine and extra-fine tips, allowing your creativity to soar. It is also low odor and non toxic, ideal for classroom, office, and home use.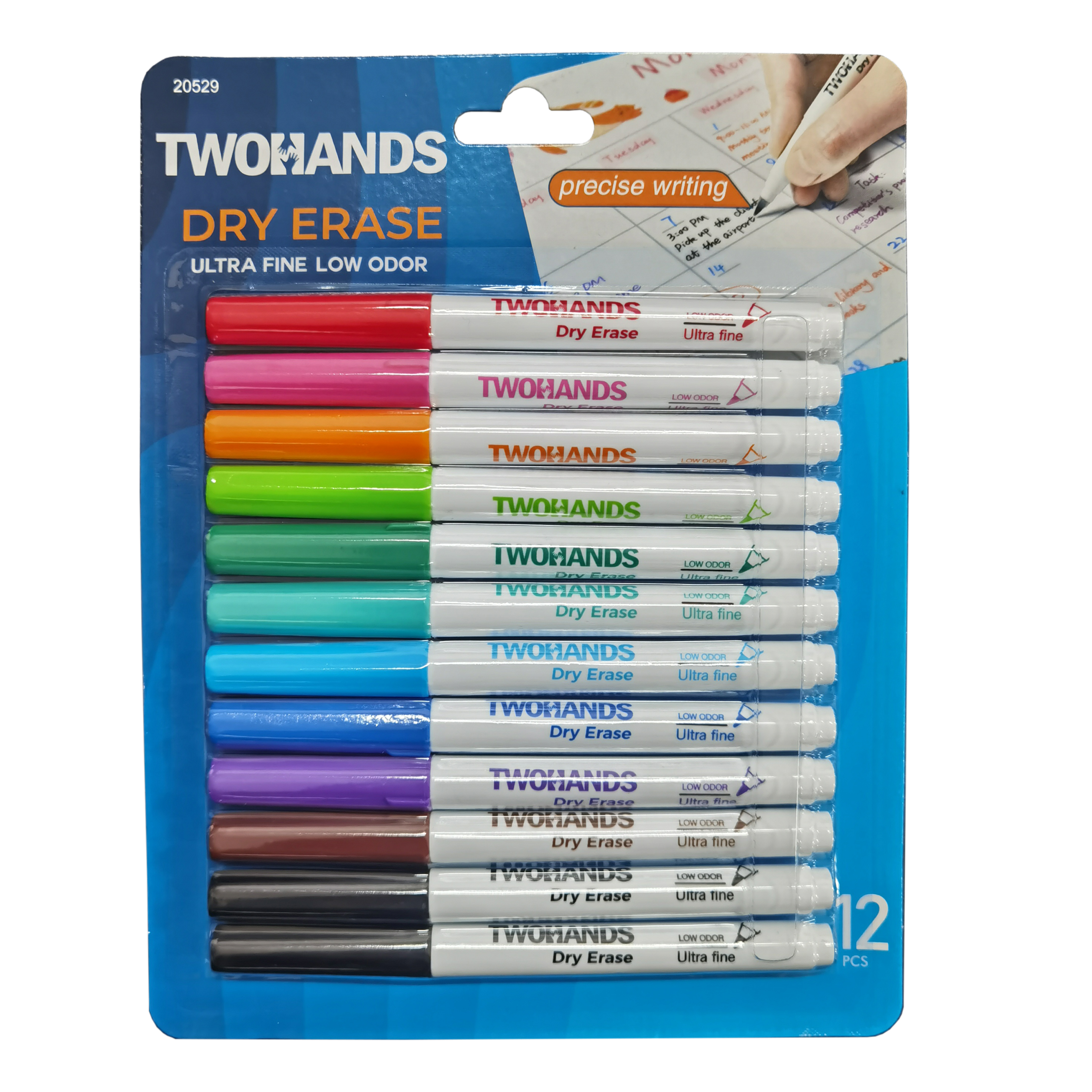 Using dry-erase pockets for worksheets is a great way to save paper and money. TWOHANDS Ultra-Fine Point Dry Erase Markers are ideal for these, with tips that are similar to pencils or ball point pens in thickness. The markers are relatively small in size—great for refrigerators, smaller whiteboards, calendars, and children's hands.
The markers are the all-things-to-all-people dry erase markers.The well-designed lids feature,so the marker will stay put and won't roll off your desk. There is no pungent dry erase marker smell: the ink is low odor. The markers have ultra fine tips, permitting both precise lines and broad areas of color. The ink dries quickly and doesn't smudge easily.
---
Post time: Apr-03-2022